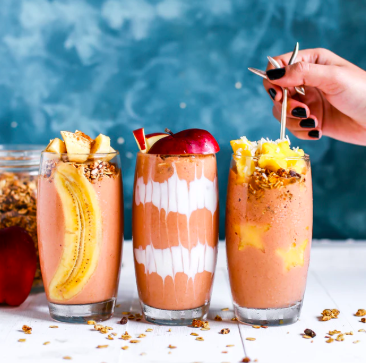 Smoothies are great summer treats when the weather's toasty and your body needs a cool-down, but many residents of our Edgewater, NJ apartments love smoothies in the winter months, too. If you're looking for a great go-to breakfast drink, here are a few winter-inspired smoothies you should try:
Warming Winter Smoothie
This fiber-rich smoothie is great for chilly days. Thanks to its combination of veggies and fruits, you'll get feel-good nutrients that taste delicious, too. This is how bananas and carrots were intended to play with each other.
Immune-Boosting Winter Citrus Smoothie
When the cold season comes knocking at your door, tell those germs to take a hike with this smoothie that's filled with immune-boosting ingredients. Besides the fact that it's bright and vibrant in color, vitamin C and other healthy properties will help your body stay happy and working at its best all winter long.
Energizing Winter Smoothie Bowl
Leave the straw for another day because this smoothie requires the assistance of a spoon. It brings together vitamin- and nutrient-rich elements such as kale, spinach and oranges in a way that's irresistible first thing in the morning. Of course, the bananas, frozen mangos and almond butter do their part to impart flavors while ensuring your body gets a well-rounded dose of good-for-you ingredients.
Fresh Cranberry and Orange Smoothie
Cranberries make their grand appearance when the weather starts to turn from warm and inviting to frosty and biting. While these little berries are great in wreaths and sauces, let's not overlook the fact that they pair well with oranges and yogurt, too. With this smoothie recipe, your mornings will begin with a bright taste of tartness that only cranberries can provide.
Parsley Pear Smoothie
Pears love lurking around when winter rolls into town. With this recipe, you can pair pears with a ton of other tasty treats, such as avocados, apples, plums and bananas. The end result is a smoothie that'll surely get you started on the right side of the bed.
Great smoothies start with great kitchens. If you're searching for an apartment where you'll feel free to flex your smoothie-inventing creativity, we'd love to show you around our Infinity Edgewater community. Reach out to us to schedule your tour today!