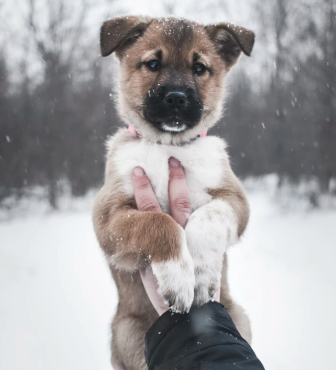 Summer's officially gone, and before you know it, winter will be settled in and ready to stay. Since our Edgewater, NJ, apartments are pet-friendly, we see lots of dogs go in and out of our doors. We thought this would be a great time to help you make sure your pooch is winter-weather ready.
1. Buy Him Boots
Between freezing temperatures and deicing products on sidewalks, Fido's feet go through a lot in the winter. In fact, the chemicals in many deicing products can actually burn your pup's paw pads. Ice balls can also form between your dog's toes, making it painful for him to put his feet down. Plus, the ice holds onto the salt and deicing chemicals that are known to inflict injury.
To prevent pain during your outdoor excursions, buy your dog boots. It'll take an extra few minutes to get bundled up before you head outside, but the effort is worth keeping your dog safe and happy.
2. Get Her a Coat
While it's true that some people dress their dogs up solely for the sake of fashion, many breeds don't have enough fat or fur to combat New Jersey winters when temperatures really get frigid. A coat is an extra layer of protection against the wind and snow that can cause incredible discomfort when the elements are at their worst.
3. Wipe His Paws and Fur With Warm Water
Deicing chemicals can find their way all over Fido's body, which can lead to illness if your dog licks himself and ingests the substances. Keep a bowl of warm water next to the door along with a towel. Dip part of the towel in the warm water and give his feet and underbelly special attention, taking care to wipe off any spots that may have come into contact with the chemicals. Be sure to towel him dry so he's not shivering from his post-walk bath.
4. Keep a Backup Bag of Dog Food in the Closet
When blizzards strike, grocery shelves go barren, and trucks often can't get to stores to restock them for several days. You don't want to run out of dog food during one of these incidents. It's best to keep a small bag of just-in-case dog food in the closet or cabinet, so it's there if you need it.
Have you been searching for a pet-friendly apartment in Edgewater, NJ? You've found your next home! Swing by our Infinity Edgewater apartment community, so we can show you around!