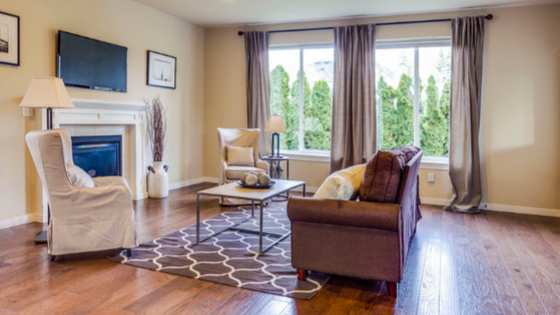 Here at Infinity Apartments in Edgewater, New Jersey, the living spaces within each spacious floor plan feature beautiful Brazilian tigerwood flooring. Also known as Brazilian koa or zebrawood, the way to properly care for this wood flooring is as unique as its distinctive appearance. Here are some tips for daily care, maintenance and routine cleanings.
Quick Daily Maintenance for Tigerwood Floors
One of the most important things you can do to protect tigerwood or any type of hardwood flooring is to clean up any moisture or spills right away. While hardwoods are sealed, they are not impermeable to staining or succumbing to extended periods of settled liquids. To ensure the longevity of the flooring and optimize its appearance, use a soft-bristled broom, dust mop or vacuum to remove debris daily. Only use vacuums that are designed for non-carpeted flooring surfaces.
Preventing Scuffs and Scratches
While tigerwood is a very resilient flooring material, it will scratch and gouge with enough force and velocity behind the source. To prevent pet scratches and gouges, keep your furry friend's nails well-trimmed, and keep rugs or carpeted runners over the tigerwood on their most trafficked areas. Avoid scratches and dings from shifting furniture by using leg pads or full padding protectors beneath heavy pieces.
Tigerwood Flooring Weekly Cleaning Tips
With daily touch-ups, your flooring may only require a good cleaning once per week to keep it shiny and ready for company anytime. However, it's essential to never use harsh chemicals with tigerwood, as it can damage and strip the finish beyond repair. Instead, mix 1/4 cup of white vinegar into about a quart of water or use a 10 percent solution of window cleaner to water and gently mop the surface until the mop wrings clear water. If you ever have any questions about proper solutions to use for your flooring, just contact our team at the front office for advice.
Explore the Seemingly Infinite Amenities at Infinity Apartments in Edgewater
If you are interested in learning more about our in-demand Edgewater apartments, contact our team at Infinity Apartments today to schedule a private tour of our available floor plans, and discover why our community should be your next place to call home.