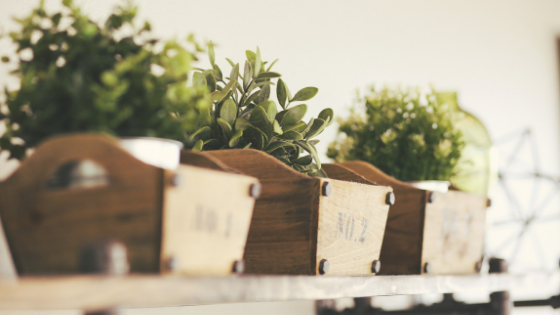 Spring means new blooms and a desire to do some gardening. But there's no reason you can't enjoy a garden all year. We hope our Infinity residents in Edgewater, New Jersey, enjoy these indoor gardening ideas.
1: Recycled Hydroponic Onions
It may come as something of a surprise, but veggies such as onions are totally recyclable. That's right. One clever hack to growing onions indoors is take the end scraps and put them in a jar partly filled with water near a window. Change the water daily, and in no time, they will sprout roots. You can transplant them into a window box and let them mature. It's hard to believe you can turn potential compost into whole onions!
2: Craft a Homemade Herb Garden
One of the intriguing things about indoor herb gardens is how little window or counter space they take up. Consider popping into your local craft store and get three, 12-inch lengths of thin hobby board. Cut one to form ends, tack the others to it and use the last one for the bottom. Fill with potting soil and you have a one-foot herb garden. If you're not handy, any small wooden box or old drawer will suffice.
3: Get Bottlenecked with Gardens
Your local craft store may be a one-stop shop for creating kitschy indoor garden items. Pick up a hobbyist bottle cutter and glass sandpaper. Cut a bottle square in the middle, sand the edges smooth and pack it with soil and a small plant of your choosing. Now, fill a drinking glass about halfway with water and set the bottle, neck down inside. The roots will find their way to the water and you have a self-sufficient, clever bottleneck garden.
4: Create a Sprout Gar Garden
Sprouts are an enjoyable addition to salads and meals, but we tend to select them in the produce aisle sparingly. That may be because they don't stay fresh long. Clean out any clear glass jar that you have handy. Rinse your sprouts seeds in cool water and clear away any chafe. Soak the seeds in a half-full jar of water with mesh or cloth covering the opening for eight hours.
Rinse and drain the seeds for three consecutive days, three times per day. Sprouts do best with consistent temperatures between 65-80 degrees. On the final day before harvesting be sure to give them a thorough cool water rinsing.
We hope our Infinity community members enjoy these indoor gardening options. If you or a friend would like more information about our Edgewater apartments, call us today.